Me, Otherwise known as Mrs. Oz/Teacher Oz
---
A little bit about me:

Hi! My name is Mrs. Osborn.

I am the mother of two super grown children. I lost my husband suddenly in June 2018. Together since high school, we were married for 39 years. I am a violinist with the Mesquite Symphony Orchestra and teach AP World History, AP Art History, and History in Film at Rowlett High School.

MY FAVORTIE MOVIES (alphabetical order):
84 Charing Cross Road (1986): Anthony Hopkins and Anne Bancroft in a wonderful film directed by Bancroft's husband Mel Brooks....and it's not a comedy!
The Best Years of Our Lives (1946) : Story of 3 veterans returning from World War II.
Citizen Kane (1941): Orson Welles' masterpiece
Fargo (1996): offbeat film with Best Actress Oscar winner Frances McDormand
Inherit the Wind (1960): starring Spencer Tracy and Gene Kelly(his best role and he doesn't dance one little bit!)
It's a Wonderful Life (1946): sentimental fave starring Jimmy Stewart(my favorite all-time actor)
Jaws (1975): starring Roy Scheider, Robert Shaw, and Richard Dreyfuss. I am still afraid of the water(and I am a championship swimmer!)
To Kill a Mockingbird (1962): Oscar winner Gregory Peck and close to the top of my list.
Monty Python and the Holy Grail (1974): starring John Cleese, Terry Jones, Eric Idle, Graham Chapman, and Michael Palin(my favorite Python)
My Fair Lady (1964): starring Rex Harrison and Audrey Hepburn. A gorgeous film.
Roman Holiday (1953): starring Gregory Peck and Audrey Hepburn in her debut. It is so romantic!
Sense and Sensibility (1995): starring Emma Thompson. I love Jane Austen.
Shakespeare In Love(1998) : Funny AND Romantic!
Shenandoah (1965): another sentimental favorite with Jimmy Stewart. Even after seeing this film dozens of times, I still cry at the end!
When Harry Met Sally... (1989): starring Billy Crystal and Meg Ryan. This one still makes me laugh!!!

MY FAVORITE BOOKS:
The Color Purple by Alice Walker
Confederates in the Attic by Tony Horwitz
Go Ask Alice, Anonymous (made a huge impression on me when I was 13)
To Kill a Mockingbird, by Harper Lee
Midnight in the Garden of Good and Evil, by John Berendt
Mutiny on the Bounty, by Charles Nordhoff and James Norman Hall
The Three Musketeers, by Alexandre Dumas

MY FAVORITE SONGS:
"Candle in the Wind" - Elton John
"Color My World" - Chicago
"Dust in the Wind" - Kansas
"For What it's Worth" - Buffalo Springfield
"Fragile" - Sting
"Houses" - Judy Collins

MY FAVORITE BANDS & SINGERS:
Beatles
1970s Chicago
Judy Collins
Elton John
Carole King
Led Zeppelin
Pink Floyd
Rolling Stones
Simon and Garfunkel

MY FAVORITE COMPOSERS:
Copland
Corelli
Dvorak
John Lennon
Mozart
Vivaldi

MY FAVORITE ACTORS:
Kenneth Branagh
Clark Gable
Audrey Hepburn
Dustin Hoffman
Gregory Peck
Jimmy Stewart
Sam Waterston

MY FAVORITE TV SHOWS:
any episode of PBS's American Experience
Antiques Roadshow (PBS)
America's Got Talent - NBC Official Site
Law and Order Special Victims Unit

MY PET PEEVES:
People who don't use turn signals.
People who speed through school zones(I REALLY hate that one)!

FAVORITE PLACES I HAVE VISITED:
London, England
Munich, Germany
Mallorca, Spain
Moscow, Russia
Paris, France
Rome, Italy
New Orleans, LA
New York City, NY
St. Croix, US Virgin Islands
Venice, Italy
Washington, D.C.

MY FAVORITE TEACHERS:
Walter Geyer - High School Band
"Bezerker" Betty and "Coley" Cole - High School Honors Humanities
Ricky Dobbs and Eric Gruver - Texas A&M University-Commerce

MY HOBBIES:
Needlework - Reading History - Traveling - Swimming

MY FAVORITE QUOTE:
"A difference of opinion does not mean a difference of principle." - Thomas Jefferson

MY FAMILY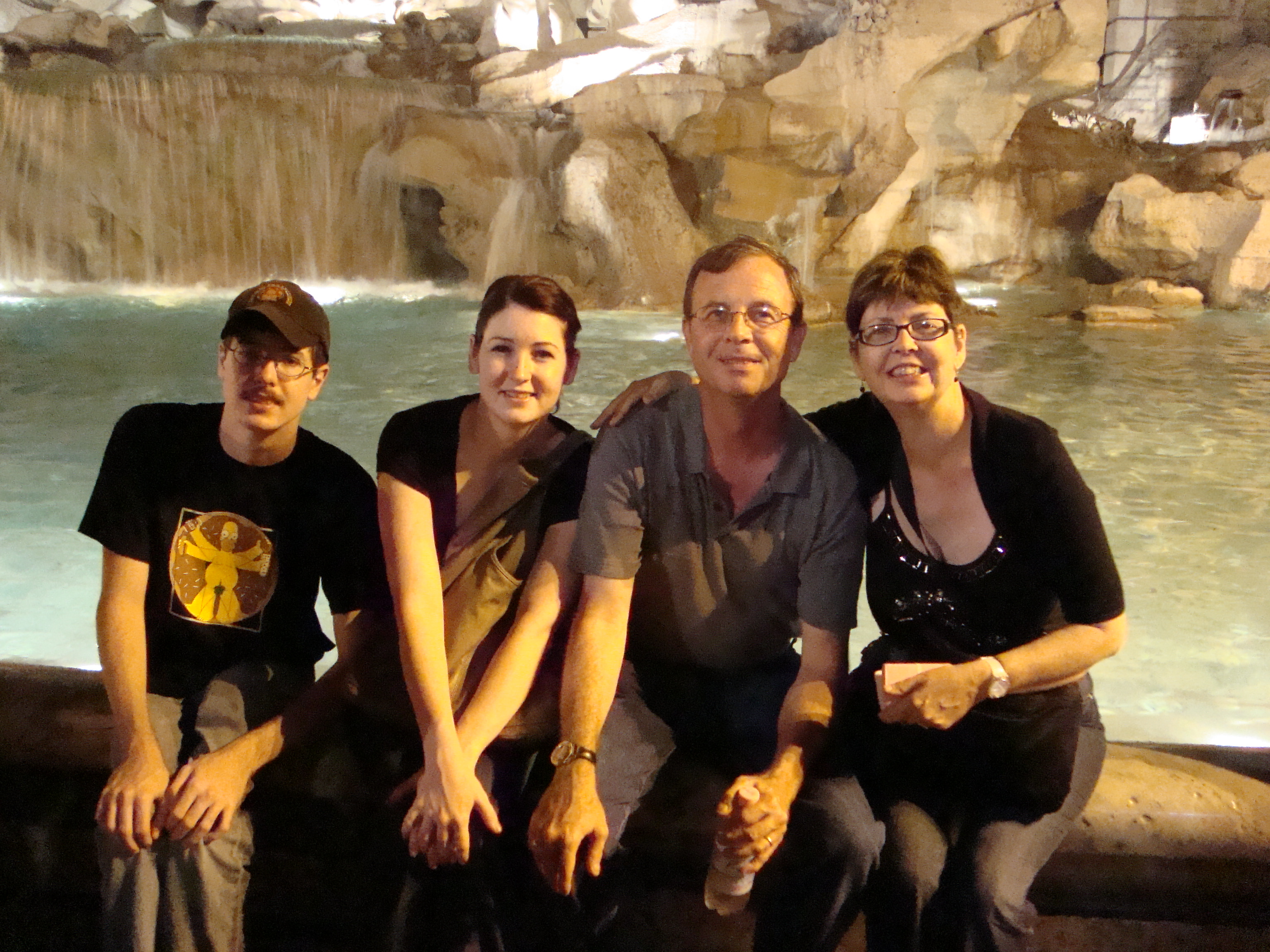 at the Trevi Fountain in Rome.
MY ZUZU
back to the class page:
Teacher Oz's Class Page